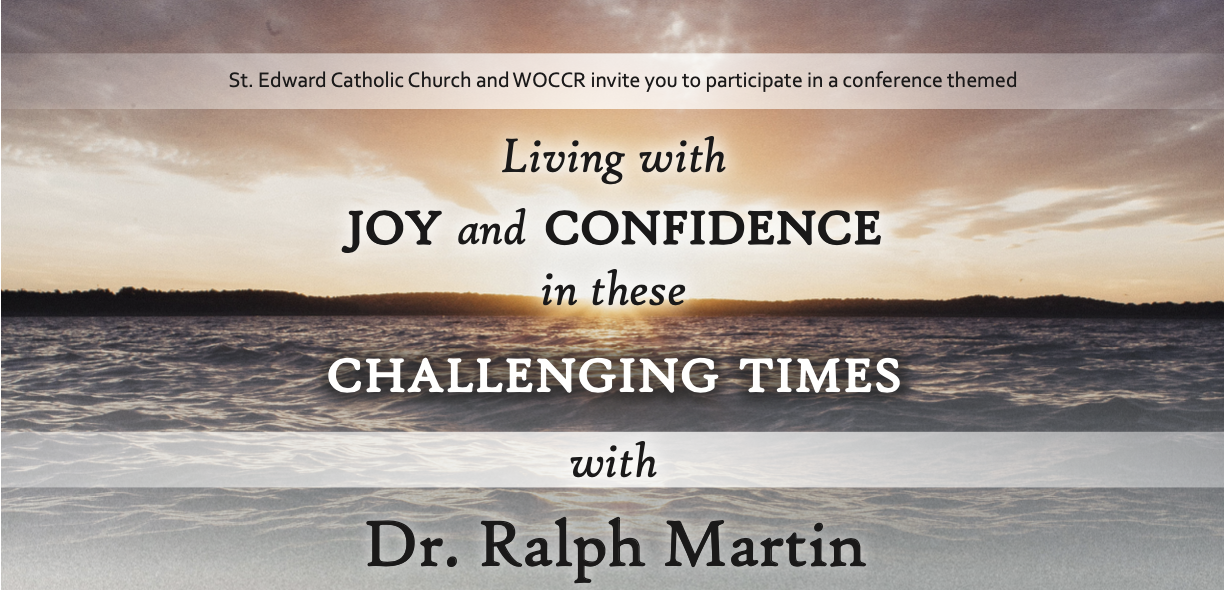 Dear Friends of the Charismatic Renewal,
Mini-Conference with Dr. Ralph Martin
Mini-Conference Report
The Mini-Conference with Dr. Ralph Martin was a beautiful ceremony.
The WOCCR Team and St. Edward's Staff wish to thank everyone who participated in the Ralph Martin Conference held on September 23-24, 2022. We wish to thank Bishop Smith for celebrating the opening Mass along with Deacons Leo Rasca and Del DeSart and the Knights of Columbus. The music team, Sonset Worship, graced us with their Holy Spirit talent and gifts during the Mass and throughout the conference. Dina Marie Hale a wonderfully gifted radio host was the Emcee. She did a fantastic job this weekend, especially when she was so heavily involved with the Rosary Bowl the following weekend. And then of course, there is YOU. Without you, there could be no conference.
Thank you for taking the time, the travel, the expense. You are the reason for all the work that WOCCR and the St. Edward's staff did to organize and implement this conference. It was really all about you. We are hoping that you will share what you learned with others. You may also share the video streaming links with your friends and families if you wish. I believe the links are good through March 23, 2023.
Dr. Ralph Martin gave five talks — one on Friday night and four on Saturday. They revolved around two of his books: "A Church in Crisis – A Pathway Forward" and "The Fulfillment of all Desire". If you are interested, you can purchase these books at Amazon.com or Renewal Ministries. He brought 80 copies with him and sold every one.
Sr. Patricia Marie Landin received a prophecy during the conference.
"My people, be alert to my words and follow me in every way, The Holy Spirit is upon you. Do not forget your first love. Do not let others deceive you but place your trust in me. I am your God; I am closer to you than you will ever know. My will for you is perfect, so please listen to my words so that you are able to respond to my directions for the conversion of the world as people are dying without anyone to pray for them.
Pray, my people and open your hearts in sharing me and my message of Salvation. Rejoice in my love for you always because I love you. "
Mini-Conference Comments
The WOCCR Team sent out a short questionnaire to everyone who attended or streamed the video. It would be really helpful to us if those who registered, would take about five minutes to fill it out and send it back. Thank you.
WOCCR Website
Our Webmaster is updating our website to provide a better user experience, and to reorganize the backend programming. What you will see when these changes "go live" will bring forward much of the information that was there previously, but with an updated presentation and navigation.
Part of this effort in updating the website is to assure that the information on your Prayer Groups is current and accurate. Please review all of your meeting information and make corrections. You can find it at the Events page at www.woccr.org/events. Also, please be aware that we will have the ability to include more information on who your are, how long you have been in existence, photo's of recent activities, etc. Please send an email to the WOCCR Team at woccrteam@woccr.org to confirm that you have reviewed the information on the website for your Prayer Group. If you would like changes, please attach notes on corrections and any new text or photographs. The Subject line should include "Website Update for Prayer Group __________.
You can Assist
Recently, it has been suggested that the information on the website is aimed toward new charismatics or people looking for information about the Holy Spirit. We would like to keep the content interesting for all Charismatic members. If you have any suggestions of what you might like to see, please send your suggestions to woccrteam@woccr.org. Please assure that the subject line includes the words "Website Update."
Catholic Bookstores
Because of COVID, and probably the internet, some of our Catholic Bookstores are very close to closing their doors. Please support the store near you. It would be very sad to lose them. They are a visible beacon in the darkness of Oregon and Washington.
Newsletters
If you are receiving multiple copies of this newsletter or you would like to unsubscribe, please let me know by sending an email to woccrteam@woccr.org. I will try to correct that. Put "Info Letter" in the subject line.
Thanks.
God Bless you and keep you safe.
Jackie Morgan and
the WOCCR Service Team